Meet Judge Ruth Neely, Wyoming's Very Own Kim Davis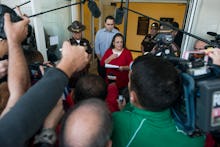 Move over, Kim Davis — there's a new public servant refusing to do her job.
A Wyoming judge is facing removal for saying she would not preside over a same-sex wedding because of her religious beliefs, the Associated Press reported.
Meet Pinedale Municipal Judge Ruth Neely
In 2014, she told a reporter that she would not perform same-sex marriages. Her remarks followed a ruling by a district court judge in the state finding Wyoming's ban on same-sex marriage unconstitutional.
"I will not [be] able to do them," Neely told the Sublette Examiner. "When law and religion conflict, choices have to be made."
After an investigation, the Wyoming Commission on Judicial Conduct and Ethics recommended that the state's supreme court remove Neely. The Arizona-based Alliance for Defending Freedom, a right-wing legal group, has come to Neely's defense, citing a provision in the state constitution that bars public office holders from being fired "because of his opinion on any matter of religious belief."
Of course, Neely is being sanctioned not for her beliefs, but for her actions.
The controversy — over public servants refusing to do their jobs — bears a striking resemblance to the case of Kentucky County Clerk Kim Davis, who refused to issue same-sex-marriage licenses after the Supreme Court legalized same-sex marriage nationwide.
As Jason Marsen, executive director of the Matthew Shepard Foundation, told AP, "If you want to hold a public office, you have to serve the public under the law, and if you can't do that, you need to find another line of work."