Planned Parenthood Shooter Robert Dear Has Been Found Unfit to Stand Trial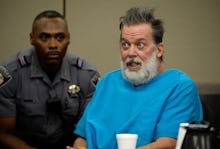 In November, Robert L. Dear opened fire on a Planned Parenthood clinic in Colorado Springs, Colorado, killing three and wounding nine. In subsequent interviews, Dear made it clear the attacks were motivated by his pro-life beliefs, stating, "I killed three and I saved 3,000 ... 3,000 babies or more," adding that he thought Planned Parenthood was "evil."
But though the evidence against him may be damning, a judge ruled Wednesday that Dear is not mentally stable enough to undergo trial. According to the Denver Post, the ruling was supported by two state psychologists who diagnosed Dear with delusional disorder. 
Dear's case, which includes eight charges of first-degree murder, will be postponed while he receives psychiatric treatment. 
In an earlier hearing, Dear maintained, "I am guilty, there's no trial. I am a warrior for the babies!" and Wednesday he was reported leaving the courtroom yelling, "That's called prejudiced! Prejudiced! Filthy animal!"