Elizabeth Warren Slams Donald Trump as Unqualified to Be President Over Trump University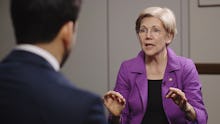 Sen. Elizabeth Warren said Tuesday in an interview with Mic that the manner in which Donald Trump managed Trump University, his defunct for-profit educational enterprise, renders him unfit to enter the White House.
During a discussion about how to tackle soaring student debt in the United States, the firebrand Democratic senator from Massachusetts slammed the presumptive Republican presidential nominee over the lawsuits he faces for allegedly defrauding thousands of students with his failed educational program, which promised to reveal the secrets behind his real estate savvy.
"We've got a guy right now who's the nominee who runs Trump U, which — at least if you read the lawsuits against it — was just out there to try to rip off students," Warren said.
Read more: Here's the Full Transcript and Video of Mic's Interview with Elizabeth Warren
When asked if Trump's management of Trump University and the allegations that have been brought against him makes him unqualified to be president, Warren responded in the affirmative.
"I absolutely think it makes him unqualified," Warren said. "Look, here's a man who looked around and said, 'What are the profit opportunities? I know, let's get out there and pretend to run a university that's going to tell people how to engage in real estate transactions to make lots of money, let's make lots of representations about what that university is going to do and who the faculty are going to be and what it's going to cover. And then, once we get their money, let's not deliver.'"
Warren said Trump University exemplified a broader trend in Trump's business career of seeking profits unscrupulously.
"That's the kind of thing that says, 'You know, I'll get out there, and everything is about Trump, how to make more money for Trump,'" Warren said. "And the fact that people who are trying to make something out of themselves or trying to get an education get cheated? Heck, that's just so much dirt beneath his feet."
In an analysis for U.S. News & World Report in April, two New York attorneys who specialize in fraud and whistleblower law described Trump University as a fundamentally dishonest and exploitative enterprise.
"From the college's inception to the time of its demise — barely a six-year run — Trump's failed venture into higher education plowed a persistent path of fraud and deception, at least from the vantage point of New York and many of the thousands of students who put their faith and their future in the mighty mogul's charge," they wrote.
Trump is going to have to go to trial for fraud cases being brought against him in New York and California, and could potentially end up taking the stand as president-elect if he wins the nomination. It wouldn't be the most promising way to kick off a presidency.