George Zimmerman Tried to Auction Off the Gun He Used to Kill Trayvon Martin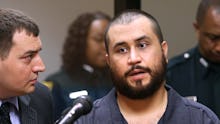 George Zimmerman, the Florida neighborhood watchman known for shooting and killing 17-year-old Trayvon Martin in 2012, ignited more controversy after announcing Thursday that he would sell the pistol he used to take Martin's life.
The gun went up for sale on the auction website GunBroker.com, where Zimmerman described the Kel-Tec PF-9 9mm as "a piece of American history," but as of 11:12 AM, the listing has been removed from the site. 
Mic has reached out to Gunbroker.com for comment and will update once we hear back. 
Read more: George Zimmerman Was Suspended From Twitter For Posting an Ex's Nudes
"The firearm for sale is the firearm that was used to defend my life and end the brutal attack from Trayvon Martin on 2/26/2012," he wrote in a lengthy description. "Many have expressed interest in owning and displaying the firearm including The Smithsonian Museum in Washington, D.C. This is a piece of American History."
The reserve price of the weapon is $5,000. Zimmerman, who has faced financial problems since the shooting, says some of the proceeds from the sale will be donated to pro-gun causes. 
Martin's death served as a lighting rod for the Black Lives Matter movement, with Zimmerman continuing as one of its leading pariahs. 
The Martin family declined to comment on the specific sale but did release a statement through their foundation to Fox35 Orlando.
"The Trayvon Martin Foundation is committed to its mission of ending senseless gun violence in the United States," it read. "This election season, we are laser focused on furthering that mission. As such, the foundation has no comment on the actions of that person." 
The auction begins Thursday at 11:00 a.m. Eastern and will close Friday at 11:00 a.m.
UPDATE: As of 11:12 a.m, it appears the item has been removed from GunBroker.com  
Read more: How Trayvon Martin's Shooting Death Sparked a New Wave of Activism