Trevor Noah Tears Down Bernie Sanders Supporters Who Would Vote for Trump over Clinton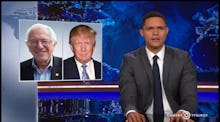 Despite it being mathematically impossible for Bernie Sanders to take the Democratic nomination, the senator has continued his presidential bid against Hillary Clinton in the hopes of a win through a superdelegate process. Most recently, Sanders captured the West Virginia primary, much to the amazement of The Daily Show host Trevor Noah. 
"Just when you think Sanders is finished, he bursts back to life," he says. "He's got the tenacity of Jon Snow and the body of what the Red Woman actually looks like." 
However, while a Clinton nomination seems the most likely, some Sanders supporters in West Virginia and other states aren't willing to vote for the former secretary of state. In fact, some would prefer to jump ship and vote for Donald Trump should it come down to a Clinton vs. Trump race in November. 
"Wow, what?" Noah says. "I knew some of Bernie's voters were young, but I didn't realize they were children. Just like, 'Fine! I'm just gonna go vote for Trump. Hillary's stupid and she smells like Benghazi!' Why would you say that?" 
The host was quick to point out that West Virginia Democrats have some discrepancies with their peers, and the lack of support for Clinton could be attributed to her saying in March that she'd get rid of all coal jobs. Or, as Noah puts it, "in West Virginia, the jobs." 
It would certainly be ironic, too, for Sanders backers to support The Donald, especially now that he has given the Vermont senator his own nickname: "Crazy Bernie." 
"It's impressive, though," Noah says. "Donald Trump gave Bernie a nickname. And that's how you know he takes him seriously as a threat. Although 'Crazy Bernie' is not really Donald's best work. I'm sure that you could've done better with that. Americans tried that insult on their bread and people still loved that shit." 
You can check out Noah's full recap of the West Virginia primary here. 
Read more: Donald Trump Rap on 'The Daily Show' Creates a Great Song From Just His Quotes