An Investigation Into Hollywood Sexism Could Change the Movie Industry Forever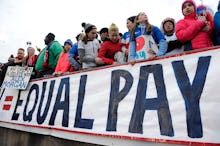 Behind the scenes of film sets and production companies throughout Hollywood, a government investigation into civil rights abuses against women is underway that could have major implications for the film industry. The Guardian reported the ratio of female to male directors hired to helm new films has actually decreased since 1998, dropping 2% to just 7% of directing roles in the star studded town. 
The plight of female directors is relatable to working women in all industries — full-time working women earned 21% less than their male counterparts in 2015 (79 cents for every dollar earned by men). While filmmakers like Jodie Foster say it might be difficult "to get interested in millionaires worrying about who gets paid more," she says Hollywood is just a part of the broader national conversation being had on the wage gap. 
"These are conversations that we need to have in our culture," Foster said on SiriusXM. "We need to have conversations about diversity all over the place, and inequality. Especially now, when the class inequality and financial inequality is larger than ever, and it really is the problem of our future. It's something that we all need to look at and think about how to solve."
In an essay published in Lena Dunham's Lenny Letter, actress Jennifer Lawrence spoke to how young women are still facing the challenge of negotiating their contracts in male-dominated industries. 
"Based on the statistics, I don't think I'm the only woman with this issue," Lawrence wrote. "Could there still be a lingering habit of trying to express our opinions in a certain way that doesn't 'offend' or 'scare' men?"
Fortunately, there might just be a silver lining — director of the LGBTQ, gender and reproductive justice project at Southern California's American Civil Liberties Union Melissa Goodman told the Associated Press she was "very encouraged by how seriously the government has taken this."
"Our hope is that they'll push industry leaders to address the ongoing violations of civil rights women directors in the industry have experienced and are experiencing," she said.
Read more: On Equal Pay Day, Here's a Reminder That Moms Are Screwed Over Most by the Gender Wage Gap