Bottled Air in China and India Is Going From Luxury to Necessity as the Smog Worsens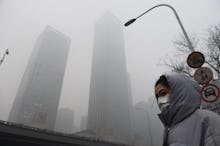 In China and India, where extreme levels of air pollution have already caused millions of deaths, some companies finding success in turning fresh air into a luxury, akin to a bottle of Fiji water.
For a 580-milliliter jar of "pristine" air from Dorset in Britain from the company Aethaer, you'll need to dish out about $115 not including shipping. Move quickly, because they're selling fast.
Companies like Aethaer — which source their air from places such as the U.K., Canada and Australia — are seriously capitalizing on this emerging health crisis. Whether unintentional or not, it's bringing awareness to China and India's environmental and also class division problem.
A recent World Health Organization study found that the most polluted cities belonged to fast-developing countries, such as India and China, according to the Wall Street Journal. The smog in these cities carry toxic chemicals that can damage lungs and respiratory systems, casing cancer and other cardiovascular diseases. And those worst affected are the lower classes.
"I don't need to go abroad to enjoy [fresh air] when I can buy a few bottles," Tang Xian, a resident of the smog-heavy province Hebei, told Mashable. "I don't know if there are any long-term benefits, but for the short-term it can slake my thirst."
One bottle of Green and Clean Air, which sells air from Australian places like Bondi Beach or Tasmania for about $13, provides about 130 deep breaths. The cap is also made to serve as a mouthpiece. 
"Heavier breathers" can take big gulps, but those who like "to savor the finer things in life, who likes fine dining" can take shorter breaths, Aethaer founder Leo De Watts told the website. "It is a status symbol for those who can afford imported air, and also helps to raise awareness about pollution problems."
But mainly only the wealthy can afford to ship over these bottles. 
Canadian-based Vitality Air is preparing to sell its canned air to India, where Delhi, the most polluted city, calls home. The company has already found success in China when its first shipment sold out. 
"The residents of India and China love imported goods, and that's exactly what we provide," a representative told Mashable. "Many wealthier customers prefer imported water, baby powder, wines... the air you breathe shouldn't be any different!"
But Greenpeace's Lauri Myllyvirta is pretty sure that's not the point at hand, telling the website, "That it would occur to anyone to buy air in a bottle definitely speaks to how bad the situation is."
Read more: Here's What China's Air Pollution Looks Like From Space