Powerful Photos Show Right-Wing Hindu Group Praying for Donald Trump's Victory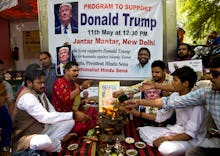 A right-wing Hindu group in India held a spiritual ceremony in New Delhi on Wednesday asking Hindu gods to make Trump win the election, the Associated Press reported.
Why? The religious group believes the tough-on-terrorism candidate is the world's only hope.
"The whole world is screaming against Islamic terrorism, and even India is not safe from it," Vishnu Gupta, founder of the Hindu Sena nationalist group, told the AP. 
"Only Donald Trump can save humanity."
"I have been a follower of his speeches and the world needs a strong leader like him to be able to counter Islamic terror groups," Gupta told the Hindustan Times. "Especially for a country like ours, which has bitter relations with our neighbors, we need a strong anti-terror policy to keep the terrorists at bay."
They performed a hawan, a religious ceremony.
It involved  applying sacred marks onto pictures of Trump and Hindu gods Shiva and Hanuman, while chanting mantras by a fire and offering prayers for Trump to win. 
A large banner explained that the group supports the boisterous candidate "because he is hope for humanity against Islamic terror."
It appears the Hindu Sena members forgot that Trump said at a rally in February that "India is taking our jobs" and the country "ripped us off" in trade, along with Mexico, China, Japan, Vietnam and "every country."