This Teacher Gave the Best Homework Assignment to Her Stressed-Out Students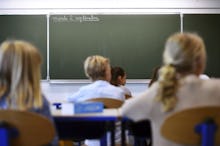 When Jenny Thom, a Year 6 teacher at the Bucklebury Church of England Primary School in Reading, U.K., saw that her students were stressed about their upcoming final exams, she decided to give them a homework assignment that would help them remember to have fun, Good Morning America reported.
"Please complete as many of these activities as possible and tick to say they have been done," Thom instructed her students.
The list of assignments for the weekend includes "play in your garden," "run until you just can't anymore" and "spend time with people you love."
This teacher really knows what's up — hopefully all of her students get their "homework" done this weekend.
Read more: This Man's Facebook Post Perfectly Nails What's Wrong With Women's Clothing