Anna Kendrick Pulled a Pretty Boss Maid of Honor Move at Her Best Friend's Wedding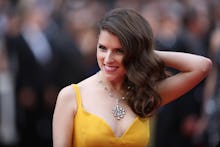 Few things are as satisfying as watching celebrities participate in the weddings of non-famous people. Something about Rihanna rocking a run-of-the-mill bridesmaid dress and Taylor Swift giving a cheesy maid of honor speech just screams "it me" and "same!"
This week, we have been blessed with yet another celebrity wedding appearance. Brides magazine reported that Anna Kendrick recently fulfilled her own MOH duties at a farm wedding in Maine for her childhood friend Meg Cerullo.
According to Brides, Kendrick showered her BFF with a lavish set of Harry Kotlar diamonds (on loan) as a traditional "something borrowed" gift. Said Cerullo:
I wore an incredible pair of earrings, bracelets, and rings for the rehearsal dinner and a different pair of drop earrings and a bracelet for the wedding. After the ceremony, I added a truly incredible necklace to change up my look for the reception. That's got to be the most incredible "something borrowed" in history.
Just a tip, brides: ditch your maid of honor and get the star of Pitch Perfect. It's a bold choice, but it'll pay off. 
h/t Us Weekly