News Chopper Inadvertently Catches Police Beating a Man Who Surrendered to Them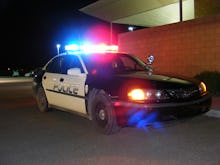 Fox affiliate WFXT's news helicopter, the "SkyFox," inadvertently caught police in Nashua, New Hampshire, brutally beat a the subject of a car chase who was crawling out of his truck and surrendering on Wednesday evening. 
Richard Simone, the 50-year-old suspect with various warrants, led police on an hour-long car chase, which began in Holden, Massachusetts, and concluded around 5 p.m. local time. Investigations into the chase and arrest have since been announced in both New Hampshire and Massachusetts.
"[There] will be ... a criminal investigation to determine what force was used, by whom, and whether it was appropriate under the law," Jeffrey A. Strelzin, New Hampshire's senior assistant attorney general, wrote of his office's response, the Washington Post reports. 
Massachusetts' investigation is twofold, with an assessment of the pursuit and apprehension, respectively. 
"The pursuit, like all pursuits that involve Massachusetts State Police, will be reviewed by the department's pursuit committee," a Massachusetts State Police spokesman David Procopio told CBS News in a statement. "We will conduct a separate departmental review of the actual apprehension, as the video captured by news helicopters shows a use of force against the suspect."
Read more: Black Voters Are More Worried About Gun Violence Than Police Brutality, According to Poll