NC Gov. Pat McCrory Asks Congress to Revisit Civil Rights Act to Segregate Bathrooms Again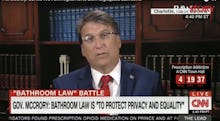 On Wednesday, North Carolina Gov. Pat McCrory appeared on CNN and suggested that Congress gut the 1964 Civil Right Act as a solution to the current nationwide controversy over transgender people in restrooms.
"Frankly, I think there's a time where the Republicans and the Democrats in this Congress need to revisit the 1964 Civil Rights Act and revisit all this issue," McCrory said. In March, he signed the now-infamous HB2 into law, which requires people to use the restroom that matches their gender assigned at birth, not their gender identity. 
The 1964 Civil Rights Act ended segregation in public places — known in the U.S. South as Jim Crow laws. The law also instated protections for people from discrimination in employment and education. 
While McCrory didn't go so far as to say that transgender people need their own restroom, he did embrace a "separate but equal" view and imply that trans people should use a separate unisex bathroom. 
After host Jake Tapper asked McCrory what he would say to the teacher of a 12-year-old transgender student, McCrory suggested that schools "make special circumstances" for trans students looking to use the restroom. McCrory also bemoaned the fact that the Department of Justice deemed separate-but-equal transgender restrooms discriminatory. 
Tapper then questioned McCrory's motives. 
"You just said you're sensitive to those needs of a 12-year-old transgender child," Tapper said. "Are you not making that child's life much more difficult?"
The North Carolina legislature convened a special session — at the cost of about $42,000 a day to taxpayers — to discuss HB2. Since its passage, North Carolina has been at the center of a media firestorm that included NAACP activism, companies severing financial ties with the state and a lot of transgender selfies. 
Read more: 5 Ways North Carolina Gov. Pat McCrory Is Making Life Unfair for People in His State