Brazilian President Dilma Rousseff Suspended by Senate as Political Crisis Deepens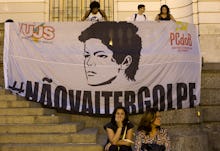 The movement to impeach Brazilian president Dilma Rousseff took a major step forward Thursday when the country's Senate voted 55 to 22 to suspend her from office, pending the outcome of an investigation, the New York Times and other outlets reported. In response to the suspension, Rousseff has likened the process to a "coup."
The president stands accused of illegally borrowing funds from state banks to mask the extent of a budget deficit in order to improve her own chances for reelection in the country's 2014 presidential race — a contest she won narrowly.  
Leadership of South America's largest nation now passes to Vice President Michel Temer
"We could no longer ignore these crimes and thus voted for impeachment," Green Party senator, Álvaro Dias, who voted for impeachment, told the New York Times. "Having been assaulted by incompetence and wrongdoing, Brazilians expect punishment."
The move by the Senate comes after 367 of the 513 members of the country's chamber of deputies also voted for impeachment in April. 
Rousseff faces little prospect of avoiding ultimate removal from office. She, nevertheless, remained defiant after the vote. 
"It's the most brutal of things that can happen to a human being — to be condemned for a crime you didn't commit." she said according to the Associated Press. "I may have committed errors but I never committed crimes."
Brazil's democracy is young, with Rousseff and her immediate predecessor Luiz Inácio Lula da Silva playing a direct role in throwing off military dictatorship in 1985. 
The growing political crisis raises questions over how to deal with a the country's Zika virus outbreak and the upcoming 2016 Olympics in Rio de Janeiro.
Read more: Brazil President Dilma Rousseff Impeached by Lower House