"Crack Cauliflower" Is the Mouth-Watering, Veggie Snack Even Carnivores Will Crave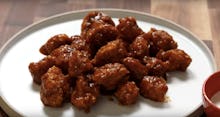 Think cauliflower is tasteless? Fuggedaboutit. 
With some BBQ sauce and a bit of TLC, you can transform the cruciferous vegetable into a snack or side dish that's so addictive, leftovers are near-impossible.  
Crunchy. Saucy. BBQ-licious. It's Crack Cauliflower, and it's the best vegetarian recipe you've never tried.
Better than wings: This recipe contains a fair amount of sodium, thanks to a heaping dose of finger-lickin' good BBQ sauce. But it's way lower in calories and fat than your average plate of chicken wings. Six Buffalo wings from Pizza Hut, plus 1.5 ounces of blue cheese dip, clocks in at 810 calories and 52 grams of fat. Hubba hubba.  
Share this cauli crack recipe with five other friends and you'll consume about 340 calories and four grams of fat. How? Baking panko-crusted cauliflower recreates the addicting fried texture we know and love — sans all the extra calories.
Here's how easy this recipe is:
1.  Dredge cauli florets in egg and panko crumbs.  
Follow along with the video below, or get the recipe here.
Once you get a taste, you'll understand why it's called crack.