La Borinqueña Is the Badass Puerto Rican Superhero the Caribbean Island Needs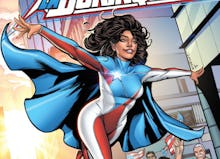 Puerto Rico now has a badass comic book superhero named La Borinqueña, NBC News reports. Hailing from New York, La Borinqueña discovers her powers of flying, superhuman strength and teleportation when she visits Puerto Rico. Donning a suit in the colors of the island's flag, she will fight both villains and the country's financial crisis. 
Marvel Comics writer Edgardo Miranda-Rodriguez created La Borinqueña as a symbol of hope, empowerment and awareness for Puerto Rico for the June 12 National Puerto Rican Day Parade. "She is symbol of patriotism at a time when Puerto Ricans need to be reminded of their superpowers," Miranda-Rodriguez said, according to NBC News.  
La Borinqueña comes at a time when the United States' territory is struggling with debt and budget cuts, which has been negatively affecting the island's healthcare system. "I like to tell stories that are rooted in narratives that inspire social change," Miranda-Rodriguez said. "It's an origin story that is rooted in history with beats of modern day issues."
The superhero's own name comes from the island's own national anthem, according to the Washington Post. Her real name is Marisol Ríos De La Luz.
In the art, the superhero flies over influential Puerto Ricans like Supreme Court Justice Sonia Sotomayor, and famed nationalist Oscar López Rivera."She's here to remind you that the power of our people comes from our people," Miranda-Rodriguez said, according to the Washington Post. 
Written in mainly English with some Spanish, La Borinqueña's comic book will debut at the Café con Comics in October.
Read more: Lin-Manuel Miranda Pleads Congress to Save Puerto Rico in 'New York Times' Op-Ed