5 Times Webby Award Winner Kim Kardashian Broke the Internet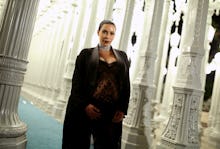 Kim Kardashian West is the queen of social media with an empire built on her family's fame, reality shows, and beauty businesses. On Sunday night, she will rightfully hold an award for breaking the internet. 
The Webby Awards is honoring the 35-year-old with the premiere "break the internet" award for "her unprecedented success online and the bold and creative ways she has used the Internet, social media, apps and video to connect with a truly global audience," according to a statement provided to E! Online.
In honor of Kardashian West's incredibly-fitting award, let's take a look back at some of her most career-defining, internet-breaking, world-stopping moments:
Kardashian West was feeling confident with her post-pregnancy body when she dropped this photo across social media. 
Why it matters: The world saw it as a message for body positivity, which she warmly embraced in a follow-up nude selfie featuring supermodel Emily Ratajowski. 
"However sexual our bodies may be, we need to [have] the freedom as women to choose [when] and how we express our sexuality."
But her selfies aren't the only thing that has helped Kardashian West repeatedly break the internet. She's also enlisted the help of her children, North and Saint West. 
This first look at her daughter North is one of the most talked about celebrity baby photos in history.
North's first photo was shared on Kris Jenner's once-upon-a-time talk show Kris, but Kim quickly learned how to better monopolize on her highly anticipated baby pictures. 
Saint's first photo premiered on the reality star's website.
By the time Saint could be seen on Instagram, his first photo was already the biggest topic of the week. 
Of course, it was Kardashian West's photo shoot with Paper Magazine which sparked the internet-breaking trend:
Kardashian West continues to be an internet-breaking inspiration to social media followers, fans and brands hoping to have similar effects on the world wide web, ever since her first pic on the gram.
Read more: 14 Kim Kardashian Instagram Photos That Prove She's The Queen of Social Media