14 Slaves Found in an Unmarked Grave Will Now Get a Proper Burial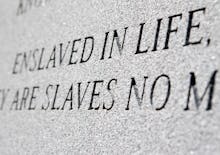 Eleven years after construction workers discovered the remains of 14 slaves in an unmarked grave in Albany, New York, the dead are getting a proper burial.
According to the Times Union, Albany's St. Agnes Cemetery has donated a plot on a hillside where the remains will be buried in June in handcrafted boxes. The gravesite will be marked with a granite tombstone reading, "Here lies the remains of 14 souls known only to God. Enslaved in life, they are slaves no more."
Archaeologists determined that the exhumed bones likely belonged to slaves after conducting DNA tests on five women and one man, whose ancestries revealed roots in Africa or Madagascar. Some remains showed signs of arthritis, broken ribs, missing teeth and other fractured bones, while the nails in the original coffins and clasps on the burial shrouds suggested they were buried in the 18th or 19th centuries.
Last month, an artist used the findings to create facial reconstructions of the seven former adult slaves, which are on display at the New York State Museum.
Read more: White People Like Heidi Cruz Need to Stop Comparing Things to Slavery 
In a video from the Associated Press, Evelyn Kamili King of the Schuyler Flatts Burial Ground Project said she believes the memorialization of the lives of slaves can help to "mend the race relationships in the United States." 
Another volunteer of the burial project, Cordell Reaves, told the Times Union there's a moral imperative at play. "We have an obligation to make sure that these people receive a level of dignity and respect that they never received in life," he said.