Chris Hemsworth's Stunt Double Has to Eat 35 Times a Day Just to Keep Thor's Physique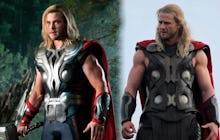 From what we've seen of the people of Asgard, they either have an impressively healthy diet or everyone is just naturally ripped — or both. For mere mortals, keeping up with the physique of Thor (Chris Hemsworth) is no easy task. Just ask Hemsworth's stunt double, Bobby Holland Hanton. 
Hanton has worked with the actor on several of his films, including his run as Thor in the Marvel Cinematic Universe, and revealed in an interview with BuzzFeed what kind of diet it takes to keep pace with the God of Thunder. 
To get "anywhere near his size," Hanton says he has to eat 35 meals a day. "I also have to train twice a day," he adds. "Chris is naturally a monster and all he has to do is look at weights and he grows." 
As for what he eats, Hanton revealed in an interview with Muscle and Fitness that his diet is mostly comprised of high protein and good fats and carbs such as turkey, chicken, nuts and spinach. However, his drinking is limited to water and green tea. With that kind of diet, it's easy to understand he'll go crazy on snacks whenever he has a cheat day. 
"I would still let myself, one day a week, have one cheat day, which I needed to get through and keep myself sane, because it's so difficult to try and maintain that diet for so long," Hanton said. "On my cheat day I'd have a two-hour window where I'd eat whatever I want. Ice creams, chocolates, cakes, and try and stuff as much in as possible, even if I felt sick or not. And funnily enough, towards the end, I didn't feel sick. Because I wanted it so much. I could just keep eating the crap food because I craved that sugar and salt. So the diet was very difficult to maintain." 
But maintain it he did, and Hanton has had a plethora of stunt double roles since. Heck, he even doubled as Captain America, so he is a superhero in his own right, diet or otherwise. 
Read more: Chris Hemsworth Had the Best Response on 'Ellen' When His Daughter Said She Wanted a Penis