Paul Ryan Moves Closer to Endorsing Donald Trump After Washington Meeting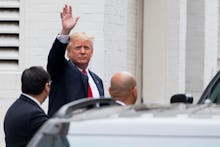 House Speaker Paul Ryan moved closer to backing presumptive Republican presidential nominee Donald Trump after a high-stakes meeting in Washington on Thursday, though he stopped short of formally endorsing the billionaire's bid.
Convening at the Republican National Committee's headquarters less than one week after Ryan said he was "not ready" to support Trump's divisive candidacy, the pair agreed to do "all we can to win this fall," per a joint statement released after the meeting.
Read more: Donald Trump Takes His War with the Republican Establishment to the Next Level
"While we were honest about our few differences, we recognize that there are also many important areas of common ground," the statement read, emphasizing that the country "cannot afford another four years of the Obama White House, which is what Hillary Clinton represents."
The statement hinted at future meetings between the two Republicans.
While the lack of an outright endorsement underscored the persistent divisions within the GOP over Trump's candidacy, the cordial statement marked a sharp turnabout from Trump and Ryan's war of words last week.
After Ryan told CNN's Jake Tapper that he remained unconvinced Trump could run a "principled campaign that Republicans can be proud about," the party's likely standard-bearer lashed out, taking to Twitter to hit back at the GOP's 2012 vice presidential nominee:
By Sunday, Trump was sounding a more conciliatory tone, saying on Meet the Press that while he was "blindsided" by Ryan's comments on CNN, he liked the speaker and considered him a "good guy."
RNC chairman Reince Priebus, who attended Thursday's meeting, sounded an upbeat tone afterward:
The Ryan-Trump divide: Still, Ryan and Trump represent very different brands of Republicanism, and it remains unclear how closely the two will collaborate ahead of the general election.
A self-styled policy wonk, Ryan's stylistic differences with the brash real estate magnate are readily apparent. There are significant cleavages on the issues, too: Ryan has fiercely criticized Trump's proposed ban on foreign Muslims entering the United States as well as the candidate's hard-line immigration policy.
Moreover, Ryan is a leading architect of proposed changes to entitlement programs like Medicare and Social Security, whereas Trump has pledged to leave such programs untouched. The speaker is also an ardent free trader, while Trump is a vociferous opponent of international trade agreements.
But with Ryan and his fellow Republicans staring down the prospect of a third consecutive loss in a presidential election, such differences may be pushed aside in the coming months.