Let Amy Schumer Show You the Real Struggle of Shopping When You're Not a Size 2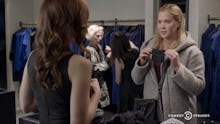 Just a few weeks ago, comedian Amy Schumer was adamant that, as a size 6, she wasn't plus size. Now, in a new clip titled "Size 12" from her show Inside Amy Schumer, she's showing what kind of hardships she faces while being not-quite-plus size and not-quite-a-size-2. 
The most burdensome among them? Shopping.
In the minute-long segment, we first see Schumer perusing a store that looks not unlike Zara.
"Do you have this in a larger size?" Schumer asks while holding up a shirt that looks like it would fit snuggly on a Jack Russell terrier.
The store's employee looks puzzled. "Have what in what?" she says.
After Schumer repeats herself, the employee tells her to look under the table, where Schumer then finds shirts that are even smaller.
It's a frustrating scenario that may be familiar to any woman who's gone into a store with a limited size range. Want a larger size? Either it's not in stock, or it's in a cast-off section, like in stores such as H&M and Forever21, which both have special areas for plus-size customers.
"Could you keep your voice down? You're scaring the thinner customers," the employee snipes back before asking if she can help her find something that isn't clothing, like jewelry.
"No... just this in a size 12," Schumer says, which may be a small hint to her feud with Glamour magazine, which featured Schumer in a special plus size edition. In response to the magazine, Schumer publicly announced that she was a size 6 to 8, not plus size, which usually is considered to be size 12 and above.
"I go between a size 6 and an 8," Schumer wrote on Instagram. " @glamourmag put me in their plus size only issue without asking or letting me know and it doesn't feel right to me."
Read more: Amy Schumer Shows Just How One-Dimensional Hollywood Roles Are for Women
But in any case, for any woman who's had trouble finding her size in a store, this is a skit that may ring particularly true. In the aftermath of the Glamour feature, Schumer became a more vocal advocate for removing labels like "plus size" on clothes and calling for more inclusivity.
"We don't need these labels," she told Jimmy Fallon. "We don't need 'em. It should just say what size you are."
So, in Schumer's world, larger sizes wouldn't be separate or under that table at all, but stocked alongside all the 2s and 4s and 6s and so on. For equality's sake, maybe stores like H&M and Forever21 should start paying attention.
You can watch the entire clip here.
h/t Vanity Fair