Georgia Parents Threaten to Take Kids Out of School Over Trans-Inclusive Bathroom Policy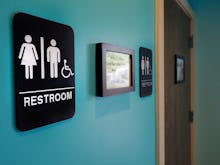 Fannin County, Georgia, parents threatened to pull their kids out of school after they learned that a transgender student was allowed to use the restroom that matched their gender identity, not their birth certificate gender.
One parent, Angel Chancey, spoke to local ABC affiliate WSB and said that she would home-school her child over the school district's bathroom policy. 
"We're going to do everything we can to stop this, and if not, then us moms are going to come home and teach our kids like it used to be," Chancey said.
Though the school district has an inclusive bathroom policy, the superintendent plans to make sure transgender kids are actually transgender and not duping the school. 
"We want to make sure this is something the child truly identifies with and it's not a fad, or it's not going to be just a 10th-grade guy wanting to look in the girls' restroom," Superintendent Mark Henson said. Henson's rhetoric echoes similar yet false points made in North Carolina — that bathroom bills protect women in restrooms, even though there are zero recorded instances of a trans person assaulting someone in a bathroom. 
The Fannin County school board will meet Thursday at 6 p.m. to discuss the bathroom policy. Chancey told WSB that she and other parents plan to speak against the policy during public comment. 
h/t The New Civil Rights Movement