FBI Director Blames "Viral Video Effect" for Rising Crime Rates Without Citing Evidence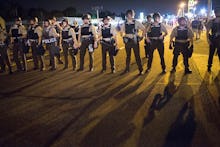 For the second time in about half a year, the director of the FBI has linked rising murder rates to a new tameness in law enforcement amid widespread criticism of police misconduct.
According to the New York Times, James Comey, who has headed the FBI since 2013, told reporters Wednesday he believes a "viral video effect" could be "at the heart" of the uptick in crime across dozens of cities, suggesting that cell phone video footage of police misbehavior like the 2015 shooting of Walter Scott in South Carolina could be causing police officers to shy away from the kind of confrontations necessary to maintain public order.
Read more: White House Argues Raising the Minimum Wage Will End Crime Faster Than Mass Incarceration
"There's a perception that police are less likely to do the marginal additional policing that suppresses crime — the getting out of your car at 2 in the morning and saying to a group of guys, 'Hey, what are you doing here?'" he said, according to the Times.
Comey spoke with reporters after being briefed about rising crime rates in over 40 cities across the nation in the first quarter of 2016, which includes a surge in murder rates. He acknowledged he wasn't sure what was driving it, but he cited anecdotes he had heard about increasing caution among police officers as they endured a crisis in their public image in 2014 and 2015.
This isn't the first time in which Comey has fretted publicly about the idea that cities are growing more dangerous because police are afraid to do their jobs. Last October, he surmised that increased public scrutiny could be interfering with police work — and at that time too he admitted he didn't have any hard data to establish a causal link between the two.
The first time Comey offered his theory, a number of criminal justice authorities and experts cast doubts on his claims, and this time again he's receiving pushback.
John Pfaff, a criminal justice scholar at Fordham University School of Law, characterized Comey's remarks as "fear-mongering." He took to Twitter to argue that increases in crime rates must be placed in historical context to have meaning, and there isn't enough data yet to declare a broader trend of increasing murder rates — let alone posit grand theories about their origins.
Pfaff noted the local base rate of crime is crucial to acknowledge when evaluating the implications of a significant percentage increase in the crime rate: "More of than not, an unexpectedly big percent change is saying more about how small the initial point is, not how big the jump is." For example, Dallas' murder rate leapt by 17% from 2014 to 2015. But 2014 marked a historic low in the murder rate for the city, and even with the dramatic surge, 2015 ranked as the city's fourth-lowest murder rate since 1930. Furthermore, big annual spikes don't always portend a longer trend — Pfaff said the last time the United States saw these kind of percentage jumps, it was at the beginning of the 1990s — right before a historic decadeslong decline in crime.
In other words, it's both too early and the data across cities is too varied to start raising the alarms about a new crime wave driven by stigmatization of police. It's possible the national conversation has indeed changed policing patterns, but patience is what's needed to ascertain whether that's the case. Pfaff has it right: "In a field as political jumpy and prone to over-reaction as crime, let's do the stats before we run up the panic."