Azealia Banks' Twitter Account Gets Suspended Following Her Racist Zayn Malik Twitter Rant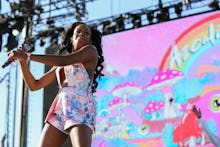 Azealia Banks made a lot of noise on Twitter Tuesday and Wednesday after she decided to take on former One Directioner Zayn Malik. After accusing him of jacking her style in an Instagram post and receiving a dismissive response from Zayn, Banks' attack quickly devolved into a spew of racist and hateful tweets. 
Thursday: silence. 
Read more: Azealia Banks Says Sarah Palin Should Be Gang-Raped By Black Men, Locked in a Cupboard
Attempting to open Banks' Twitter page shows a grim, but inevitable scene.
No more Banks. "We do not comment on individual accounts, for privacy and security reasons," Twitter's Nu Wexler said in an email exchange. But Wexler pointed to certain sections of Twitter's rules that apply to this situation.
"When an account engages in abusive behavior, like sending threats to others or impersonating other accounts, we may suspend it temporarily or, in some cases, permanently," the site's help section on suspended accounts reads. 
Additionally: "You may not promote violence against or directly attack or threaten other people on the basis of race, ethnicity, national origin, sexual orientation, gender, gender identity, religious affiliation, age, disability or disease." 
To unlock a suspended account, a user needs to "complete certain actions," such as "deleting Tweets that are in violation of our Rules," Twitter's rules read. Banks has a lot of tweets to delete, such as these two where she called Malik a "faggot" and wrote off his One Direction fame for his being a "token."
In another, she called him a "curry scented bitch," which sparked a backlash from South Asian women on Twitter who shared photos showing how beautiful #curryscentedbitches really are. 
There are also those in which Banks called Malik's mother "a dirty refugee who won't be granted asylum" or said that his family was going to be "obliterated by good ol the U.S. of A" when Donald Trump gets elected.
This Twitter rant also got Banks cut from Rinse's Born & Bred festival, where she was set to headline.
She also may not be allowed in the United Kingdom at all. "Coming to the U.K. is a privilege, and we expect those who come here to respect our shared values," read a U.K. Home Office statement released to NME Thursday. "The Home Secretary has the power to exclude an individual if she considers that his or her presence in the U.K. is not conducive to the public good or if their exclusion is justified on public policy grounds."
We'll have to wait and see how that situation and Twitter's suspension play out, but as of now, Banks' Twitter fingers may have tapped out their last rant.