One Artist Is Assembling a Nude Army of Women With Mirrors to Blind Republicans With Truth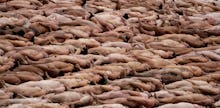 Because nothing says "get naked" like 50,000 Republicans.
Artsit Spencer Tunick is enlisting 100 women willing to bare all in the early hours of July 17 as part of his "Everything She Says Means Everything" photographic installation. 
As the day dawns over Cleveland, home of the 2016 RNC, this nude army will hold its mirrors to the light, blinding convention-goers with truth — and much unclothed flesh.
"The photograph will involve 100 nude women holding large mirror discs, reflecting the knowledge and wisdom of progressive women and the concept of 'Mother Nature' into and onto the convention center, cityscape and horizon of Cleveland," Tunick's website explains. "The mirrors communicate that we are a reflection of ourselves, each other and of the world that surrounds us. The woman becomes the future and the future becomes the woman."
If the mirrors also cause some female-unfriendly politicians momentary discomfort, so be it. But Tunick told Clevescene he isn't yet sure whether he intends this to be "a protest work." 
"Maybe I want it to be a work that women can be part of, maybe to heighten the idea that women will decide the outcome of this election and will have a more powerful presence in the future of politics, the future of the country, and the future of the world," Tunick said. "It's not so much a protest but an action, a wake-up call to the absurdity of politics and discrimination." 
Which sounds a lot like protest, especially in light of his tweeted statement, "For our daughters, I couldn't stand by and do nothing." But this isn't Tunick's first rodeo: He's currently working on a 6,000 person assemblage in Bogota, Colombia, and in the past, he's gathered 2,500 naked bods in Cleveland. 
Women who'd like to flash for their freedom to choose should send nudes, presumably — "a low-resolution, full-length photo of yourself," per Tunick's website. 
Read more: This Brave Woman Went Topless to Protest Rape Culture on Campus
h/t Jezebel