Gay Hook-up App Jack'd Claps Back at "No Fats, No Fems" Shirt With Anti-Bullying Tank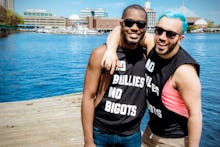 Following fashion brand Marek+Richard's release of a tank top with the discriminatory phrase "no fats, no fems," Jack'd released its own shirt. The message? "No bullies, no bigots." 
In a press release, Kevin Letourneau, the director of marketing at Jack'd, said the company was "disheartened" to see the "toxic" phrase make it into an apparel line.
"As the youngest and most diverse community of gay men around the world, we see it as our responsibility to create a safe space to connect and empower our generation to stamp out exclusionary phrases from our vocabulary once and for all," Letourneau said. 
After the initial backlash, Marek+Richard defended the shirt on its Twitter account, calling it "satire." That defense didn't go over well with gay Twitter. 
In response to the controversy, Marek+Richard tweeted an image of a person who appeared to be a drag queen wearing the discriminatory shirt. 
However, people weren't willing to let the brand off that easy:
Jack'd plans to donate proceeds from the sales of the shirt to the Trevor Project, a suicide prevention organization for LGBTQ youth, to highlight the damaging effects of bullying on gay men.
Pressures to conform to a thinner body standard or to act more masculine have been proven to cause psychological distress to gay men. A 2005 study found that just being a gay man is a risk factor for developing an eating disorder; other studies from the early aughts found that gay men were also more likely to face major depression and a higher risk for suicide. 
In the face of all these possible consequences, Jack'd says Marek+Richard's satire excuse is not helpful. 
"Retroactive satire is not enough," Letourneau said in the statement. The company has also created a hashtag — #ChangeTheGame — for Jack'd users to spread the word that we should "respect our differences and embrace our uniqueness as individuals."