This "JerkShirt" Allows Men to Secretly Masturbate In Public, Because Technology Is Good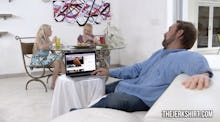 Visibly jerking off in public is illegal, and doing so at home in the presence of friends and family is generally frowned upon. Sad!
But now a porn company called CamSoda has created a shirt that promises to give horny men the superpower of inconspicuous masturbation. How? With a fake third arm/hand to pose as a decoy for your real arm/hand, which can now be free to massage your dickens under the table.
The shirt is sure to fool many people.
You can even personalize by skin tone to ensure that your fake hand doesn't give you away by being a shade or two off!
See how chill and natural this looks?
CamSoda has confirmed in an email to Mic that this shirt is a real thing; it will retail at $49.99 and units will be shipped in 60 days. In a press release, CamSoda founder Daron Lundeen said this:
With more and more people on their mobile devices than ever before, we wanted to provide them with a seemingly inconspicuous way to enjoy adult entertainment. Enter the JerkShirt. People no longer have to live in fear of being caught mid-jerk.
Ah, yes, same. Living in Fear of Being Caught Mid-Jerk: A Memoir.
It is worth noting that there are no plans for a female version of the JerkShirt — a JerkBlouse, if you will — at this time. "If we get requests for a female version, we will certainly make one, however there are currently many discreet female massagers," Lundeen said.
So why did it not occur to CamSoda to make one for women in the first place? Probably because it is a known fact that women don't masturbate. (They also don't fart.) How about a little gender equality, CamSoda?