Here's a Foolproof Way to Keep Track of All of Those Restaurants You've Been Dying to Try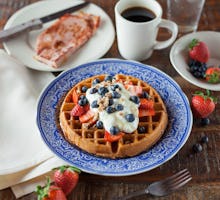 It's time to retire that half-assed Google Doc of brunch places you plan to conquer. 
There's a better way to record the long list of restaurant eats you need in your mouth.
One solution is Salt, a free mobile app that does all the work for you. Before you get all mad that we're suggesting an app, consider Salt's benefits:
You can import your old list into the app.
If the idea of re-inputting your long list of must-try brunch spots feels like a drag, fear not. Salt will import your old list into its app, whether your original is in an excel spreadsheet or kept on your iPhone's "notes" app. They've basically hired an intern for you, free of charge.
You can save both the restaurants of your aspirations and the ones you absolutely MUST revisit. 
And then, you can leave yourself little notes, like "Bob recommended this," or "Get the kale salad again." And THEN, you can look up keywords in the search tool and your notes will surface, lest you forget the name of the restaurant. 
All of the restaurant's details appear in one place.
You'll have access to the restaurant's phone number and address, and Salt will even hook you up with an Uber to get there. 
Every restaurant you add is placed on your own personal food map.
If you leave, Salt will follow. You can be at home or in a different country, and Salt will be with you for all of your eating needs. Your friend who studied abroad in Paris who will not stop talking about the gem of the cafe with the je ne sais quoi, may finally stop talking about it once you've tried its baguette -- and you'll probably only remember to visit if you have it safely logged in your app.
You can share your lists with your friends, whether they have the app or not.
If you're the acclaimed foodie of your group, there's no doubt your friends hound you for restaurant recommendations on the reg. Salt allows you to follow your friends (aka stalk them and see where they want to eat next). You can also share your lists with others, whether they have the app or not, making it easy to make first date or best pizza recommendations.
Happy brunching!