Turkey: Blast in Predominantly Kurdish Southeast City of Hani Kills 4, Injures 15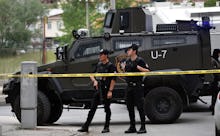 Four people are dead and at least 15 injured after a large blast in Hani, Turkey, a predominantly Kurdish city in the country's southeast region, Reuters reports.
Citing the country's Interior Ministry, Reuters reported that the explosion occurred around 10:30 p.m. local time as members of the Kurdistan Worker's Party, known as PKK, attempted to loaded explosives onto a truck.
BNO News, citing Turkish media, reported that the PKK militants appeared to be "in preparation of an attack," and that the blast seemed to have been accidental.
Turkey has been teeming with internal conflict since the dissolution of a ceasefire agreement between the government and the PKK in July, Al Jazeera reported.
On Tuesday, a car bomb that exploded in the city of Diyarbakir wounded 12 police officers. An attack of a similar nature in March killed six people and wounded 20.
The PKK and the Turkish government have been at odds since 1984, when the rebel group first sought independence for the country's large Kurdish population. 
This story is breaking and will be updated as more information becomes available.
Read more: Diyarbakir, Turkey Explosion Leaves at Least 6 Dead, 20 Injured 
Correction: May 12, 2016