Kristen Stewart Fights For Her Right To Wear Flats At the Cannes Film Festival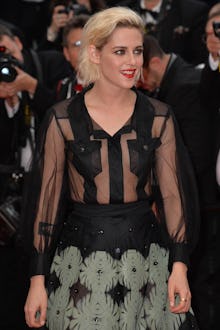 Just last year at the Cannes Film Festival, the annual celebration of beautiful French people and film, heels were rumored to be a requirement. 
According to a number of stories, women were being turned away from film screenings if they dared to wear a shoe without a few centimeters of additional height, even if they had a medical condition that made wearing heels nearly impossible. In one headline-making scene last year, a woman was turned away from a screening of Carol because she was wearing a not-up-to-code pair of very expensive rhinestone flats. Meanwhile, men glided happily and comfortably down red carpets in regular ol' shoes. 
Read more: Backlash Hits Cannes As Women Reportedly Turned Away for Wearing Flats
While speaking to the press at the festival on Thursday, actress Kristen Stewart let it be known that she thinks that's bullshit. 
During a roundtable discussion for her latest film by director Woody Allen, a reporter noted that she had switched from flats earlier in the day to heels and was wondering if this was a political statement on Cannes' rumored past policy (which ended up not being a real policy at all). 
"I was not making a statement," she said before talking about her plan if and when someone would try to condemn her for daring to wear flat footwear. 
"Things have to change immediately," Stewart said. "It has become really obvious that if [a man and I] were walking the red carpet together and someone stopped me and said, 'Excuse me, young lady, you're not wearing heels. You cannot come in.' Then [I'm going to say], 'Neither is my friend. Does he have to wear heels?' It can work both ways. It's just like you simply cannot ask me to do something that you are not asking him. I get the black-tie thing but you should be able to do either version — flats or heels."
And there really isn't a sensical argument against that, is there? While Cannes never admitted to any formal policy last year, it looks like Stewart wasn't the only woman to make a maybe-statement on the red carpet in response to last year's brouhaha. 
Julia Roberts, while attending the Cannes premiere of her film Money Monster with George Clooney, went sans footwear all together, opting to go barefoot. 
Although Cannes never technically had a policy on women wearing heels, it's clear that just the mere idea and speculation was enough for women to take action, and fight for their right to wear whatever footwear they damn well please.