Donald Trump's Former Butler Says We Should Nuke Detroit to Kill Muslims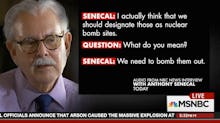 If you think Donald Trump would make a horrifying president, you should thank your lucky stars his former butler isn't also running.
Anthony Senecal, 74 — who worked as the butler at Trump's Palm Beach, Florida, estate for 30 years — was interviewed on Thursday by NBC News and unloaded enough Islamophobic rhetoric to fuel a dozen of his former employer's hate-filled rallies.
For starters, Senecal thinks we should nuke Detroit and Milwaukee:
"I actually think we should designate those as nuclear bomb sites," Senecal told NBC News, referring to Detroit and Milwaukee, which he claimed had been "totally disgraced by Muslims." Detroit is estimated to have the largest Muslim population of any U.S. city.
"What do you mean?" NBC News replied.
"We need to bomb them out," Senecal said.
He doesn't care that these are U.S. cities. 
The 74-year-old went on to explain that it didn't matter that these cities were, in fact, in the United States — they didn't belong here, as far as he was concerned.
"I could care less if they're in the U.S.," Senecal said. "I don't want them in the U.S. They don't belong here. They belong in the sand dunes where they came from."
This wasn't Senecal's first time courting controversy.
The former butler was on NBC News to begin with because he'd written a Facebook post in May 2015 calling for President Obama to be hanged from the "portico" of the "white mosque" (White House) — a position he reiterated for NBC News.
He also referred to Obama as a "kenyan fraud" (sic) on Facebook and called for a "SECOND AMERICAN REVOLUTION" to oust him from power.
Donald Trump, the presumptive presidential nominee for the GOP, has since distanced himself from his former employee.
"We totally and completely disavow the horrible statements made by him," Trump spokesperson Hope Hicks told the New York Times in an email Thursday.
But considering the virulent racism and Islamophobia Trump has trumpeted throughout his campaign — he has called Mexican immigrants "rapists" and called for a ban on Muslims entering the country — throwing Senecal under the bus might be a missed opportunity.
It sounds like these two would have made excellent running mates.