Donald Trump Says Transgender Bathroom Access at School Should Be a "States' Rights" Issue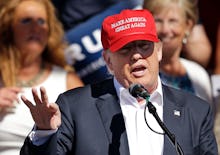 Donald Trump may be cool with Caitlyn Jenner using any bathroom she prefers at Trump Tower, but he was more muted Friday when asked about President Barack Obama's historic directive about the issue in public schools.
"Well, I believe it should be states' rights and I think the state should make the decision," the Republican Party's presumptive presidential nominee told ABC when asked about the White House's position on the use of school restrooms by trans students.
Read more: President Obama Issues Historic Declaration on Trans People in Public School Bathrooms
Trump in April said North Carolina erred in passing a law that prohibited people from using public bathrooms that don't match their assigned sex at birth, needlessly subjecting its businesses to profit-busting protests.
The Manhattan real estate billionaire said the state had seen "so little trouble" over the issue, but then "did something that was very strong and they're paying a big price, and there's a lot of problems."
He also said Jenner, one of the most famous American figures to have undergone a gender transition, could use the facility of her choice if she visited his headquarters — and she took him up on the offer.
On Friday, however, he was all about the limited government approach.
Trump told ABC's Good Morning America by phone that the bathroom issue was a "perfect example" of a case in which government shouldn't dictate to individual states.
Trump weighs in as North Carolina and the Justice Department go head-to-head over whether transgender people should be restricted to using facilities that conform to their birth sex or, as Justice contends, such limitations are discriminatory.
"The guidance does not impose any new legal requirements," the Associated Press reported. "But officials say it's meant to clarify expectations of school districts that receive funding from the federal government."