Customs and Border Protection Confiscated 1,423 Pounds of Marijuana Hidden in Coconuts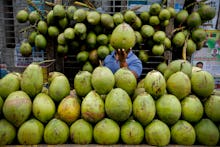 On Monday, United States customs officers caught truck drivers attempting to cross the Mexican border into Texas with 1,423 pounds of marijuana hidden in a shipment of coconuts.
Yes, coconuts.
According to a press release from U.S. Customs and Border Protection, officers at the Pharr International Bridge cargo facility discovered the 2,486 weed-filled fruits following an imaging inspection of the vehicle. CBP estimates the drugs to be worth around $285,000.
Not long after, CBP went full speed ahead with the Harry Nilsson reference. (They beat us to it.)
Though it may seem like the drug smugglers at least deserve points for originality, there's a well-established precedent of criminals using decoy produce to push drugs across the border. In November, officials at the same checkpoint found $1.7 million in narcotics hidden among shipments of carrots and cucumbers. 
And in January, smugglers got a little more clever, this time stowing away 2,493 pounds of marijuana inside a bag of fake carrots. 
By this point, border patrol officers know what to look out for. 
"Our officers' ability to use all available resources combined with their experience has resulted in numerous discoveries of illegal narcotics," said Port Director Efrain Solis Jr.. "We are keeping drugs off our streets, protecting our communities and our vigilance is continuous."
h/t ABC News
Read more: There's a Big, Surprising Benefit to Eating Weed Rather Than Smoking It
Correction: May 13, 2016