Chance the Rapper Just Made a Strong Case for Being 2016's Most Important Rapper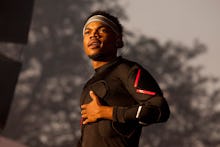 At times, the three-year wait fans have had to endure for a new Chance the Rapper album has been as agonizing as the marshmallow experiment. His constant presence on television, at festivals and on other major hip-hop albums has made new music feel so close, yet so far. But our patience has been rewarded. 
Friday, Chance the Rapper walked back into our lives with a new album that's packed with sweet, sweet genius.
Read more: How Chance the Rapper Went From High School Fuckup to One of Chicago's Elite Artists
Chance's third album, officially titled Coloring Book, is a joyous romp through one of rap's most optimistic and child-like minds. It was briefly available for free download on Datpiff, where his previous Acid Raps took off, but can now only be found on Apple Music, which is offering a 3-month free trial via Chance's website. Song to song, the record swings back and forth between invigorating, heart-breaking, thought-provoking, like a child doing laps on the monkey bars. 
Chance makes it look easy — and his Coloring Book may turn out to be the most important rap album we hear this year.
Ear candy from first song to last. Coloring Book picks up where his last major project, Surf, left off. The instrumentals are as lush, stacked with violins, trumpets and aux percussion. It experiments with rhythms and tempos in a similar way, but its hip-hop foundation keeps it from veering all the way into Broadway territory. Chance moves over the arrangements all with a lithe grace, like a gymnast pulling a Jean-Claude Van Damme split between two rainbows.
The album states its mission clearly and it lives up to it on nearly every track. "I don't make songs for free, I make 'em for freedom," Chance raps on "Blessings." That takes shape in both literal cries for freedom — nods to the Black Lives Matter movement and religious salvation — and in making a case for artistic freedom. 
Despite being one of the most beloved and hyped rappers in recent memory, Chance is determined to remain an independent artist. It's allowed him to keep a more erratic release schedule and to really push his songwriting to new experimental heights. "If one more label try to stop me," he raps on "No Problem," "It's gon' be some dreadhead niggas in ya lobby." 
The album's track list is literally a who's who in indie and upper echelon hip-hop. No one phones it in. The album's contributors bring their best bars — very Chance-esque bars, no less. Would street mystic Jay Electronica be rapping about The Lion King if he wasn't rapping alongside Chance on "How Great?" 
The new styles of Young Thug, Lil Yachty and Noname punch up the familiar voices of legends like Future and T-Pain. Lil Wayne's verse on "No Problem" actually shows him capturing a bit of the wit and charm he had pre-Carter IV. Kanye West restrains himself from rapping about bleached assholes for a minute to help launch a spiritual sequel to "Ultralight Beam," titled "All We Got." Its uplifting chorus — "Music is all we got" — is vital medicine.
On the original "Ultralight Beam," Chance the Rapper shared his hopes for Coloring Book: "Let's do a good ass job with Chance 3/ I hear you gotta sell it to snatch the Grammy." He's currently supporting a petition to get the award committee to change it standards to consider free music in its award categories, though it's unclear if Coloring Book falls under that classification at this point. Considering the competition (Kanye's uneven The Life of Pablo and Drake's uninspired Views), it has an excellent shot at taking home rap album of the year.
Chance the Rapper's Coloring Book is set to redefine so much of what we know about music in 2016. He's helping remind listeners how diverse and unpredictable hip-hop can be. A politically conscious record can have some A1 humor to it, and a gospel-tinge doesn't always have to make a record feel sanctimonious. Chance did a good ass job and he deserves all the thanks and praise he's getting.