This Teeny-Tiny Personal Plane Is Electric, Quiet and Can Land Pretty Much Anywhere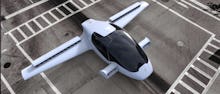 Since self-driving cars are already on the way, the next logical step in keeping up with the Jetsons is — naturally — personal planes. 
A company called Lilium Aviation is working on a two-passenger electric powered plane that can take off and land vertically. The company says it plans to roll out the plane by January 2018.
"Our goal is to develop an aircraft for use in everyday life," said Lilium CEO Daniel Wiegand in a statement, adding that his company plans to make the plane's engines much quieter, so that these vehicles can easily take off from a neighborhood setting. 
It's fast: The plane can cruise at 180 miles per hour and travel a maximum distance of 300 miles. This vehicle could swoop you from New York to Washington, D.C. in a little over an hour. 
It's compact: The vehicle can fit in a roughly 50 foot by 50 foot space, which is easily the size of a small garden. Refueling the plane is as simple as plugging a cord into an electrical socket.
It's just not super sturdy: Of course, this plane isn't for city folk or regions prone to inclement weather. The company recommends clear skies and minimal air traffic for flight. The good news is to fly this plane you'll only need 20 hours worth of training to get a Light Sport Aircraft license.