Blake Lively Just Said Woody Allen Is "Empowering to Women"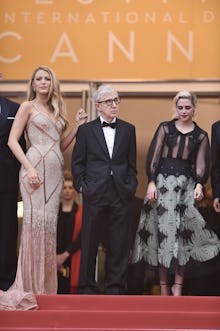 Blake Lively is making feminists and reasonable human beings face palm everywhere with her comments about how Woody Allen is great news for female empowerment. 
Lively stars in Allen's latest movie, Cafe Society, which served Wednesday as the Cannes Film Festival's opening film. However, Allen's son, Ronan Farrow, carefully timed a damning op-ed in the Hollywood Reporter about his father's alleged sexual abuse of his sister and Allen's daughter with actress Mia Farrow, Dylan, for the same day. 
Read more: Azealia Banks Called Zayn a "Curry Scented Bitch" and Desi Women Clapped Back
Press coverage of Cafe Society ineluctably included questions about Farrow's piece. When Lively was presented with her director's accusations, she came to his defense, according to the Los Angeles Times:
"It's amazing what Woody has written for women ... It's very dangerous to factor in things you don't know anything about. I could [only] know my experience and my experience with Woody is he's empowering to women."
Lively has made a name for herself with off-color comments and decisions in the past — such as choosing to get married on a plantation and designing a fashion photoshoot in her former lifestyle publication, entitled the "Allure of Antebellum."
Given her track record, Lively's suggestion that Allen — who had an affair with his own adopted stepdaughter, 35 years his junior, to whom he is now married — is great for feminists everywhere might not come as the biggest surprise. 
Conversely, her costar, Kristen Stewart, was alarmed there was not more coverage of Allen's scandal during the festival this week, simply telling the Los Angeles Times, "I was shocked." 
So are we.