Clinton and Sanders Oppose Obama: Stop the Deportations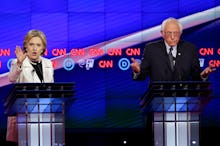 They may be opponents in the Democratic presidential primary, but when it comes to deporting undocumented immigrants, Hillary Clinton and Bernie Sanders agree: President Barack Obama is wrong.
Reuters reported Thursday that U.S. immigration officials are planning a series of raids over the next month targeting mothers and children who have entered the country illegally from Central America. 
The raids are slated to run from May into June, and would constitute the largest deportation sweep for the Obama administration this year.
Clinton and Sanders both issued strongly-worded statements after the news broke, condemning the administration's decision:
"I am concerned about recent news reports, and believe we should not be taking kids and families from their homes in the middle of the night," Clinton said, according to CNN. "Large-scale raids are not productive and do not reflect who we are as a country."
Her opponent, Sen. Sanders, expressed a similar sentiment in a press release on his campaign website:
"I oppose the painful and inhumane business of locking up and deporting families who have fled horrendous violence in Central America and other countries," Sanders said. "Sending these people back into harm's way is wrong."
Over the past two years, tens of thousands of refugees from Guatemala, Honduras and El Salvador have been apprehended trying to enter the U.S. illegally through Mexico. Most are fleeing gang violence in their home countries, where constantly warring drug traffickers have made those nations perilous and often deadly places for young people to grow up.
By deporting these very same refugees to Central America, Obama is sending them right back into harm's way. The pushback against his raids highlights one of the more disturbing and overlooked aspects of Obama's presidency: During his tenure, Obama has had more people deported than any other U.S. president. 
In fiscal year 2014 alone, the Obama administration deported a staggering 414,481 people — a slight dip from the year before, when they deported an all-time high of 438,421. For comparison, the most George W. Bush ever deported in a single year was 358,886, in 2008. That was the highest number in U.S. history before Obama took office.
Immigration advocates and fellow Democrats alike have condemned Obama's aggressive deportation policies.
"Invading homes is inhumane and adds to the trauma of these families fleeing violence and oppression," Rep. Linda Sánchez, chairwoman of the Congressional Hispanic Caucus, said in a statement in January. "Many recent immigrants from Guatemala, Honduras, and El Salvador are escaping one of the most dangerous regions in the world."
Obama's 2014 executive immigration order — which would let people under 30 who immigrated to the U.S. illegally as kids apply for a deportation deferral, and give legal reprieve to undocumented parents of some U.S. citizens and permanent residents —  is likely a small consolation to the millions who've already been deported. 
The action's legality is also currently being litigated before the U.S. Supreme Court, after Texas and 25 other states sued the administration over the move.
But the human toll of this migration drama is by far its most gripping element. In 2014, a staggering 69,000 people from Central America — mostly unaccompanied minors — were apprehended trying to enter the U.S. from along its southern border with Mexico. 
Those numbers subsided in 2015, but between July and December of last year alone, 17,000 migrants from the same three countries have tried to make the harrowing journey. There seems to be no end to the crisis in sight.
It is encouraging that Clinton and Sanders oppose Obama on this issue — especially considering one of them could be America's next president — but unspeakable danger for many undocumented people is still lurking right around the corner.