Chance the Rapper 'Coloring Book': How to Download and Stream New Mixtape Online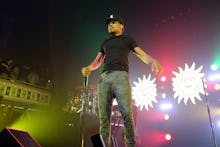 We've been waiting for Chance the Rapper's follow-up to his highly acclaimed Acid Rap in 2013 for a while now, and it's finally here, in the form of a coloring book. OK, not a literal one, but Chance's third mixtape, which was initially called Chance 3, is finally here with the title Coloring Book. Featuring 14 tracks and impressive collaborations, it's a welcome return to the spotlight for the Chicago rapper — but how can fans listen to it? 
For now, Coloring Book is streaming exclusively on Apple Music, and can also be found with an accompanying Apple Music link on Chance's website. Obviously, this is another huge win for the streaming service, as it recently secured an exclusive for Drake's Views. 
In Coloring Book, Lil Wayne, 2 Chainz, T-Pain, Jeremih and Justin Bieber are just some of the collaborators. Additionally, the mixtape features "Angels," which Chance previously unveiled in October on The Late Show With Stephen Colbert (though the mixtape version doesn't feature a Colbert cameo), and "Blessings" from his appearance earlier this month on The Tonight Show Starring Jimmy Fallon. 
You can stream Coloring Book here. 
Read more: How Chance the Rapper Went From High School Fuckup to One of Chicago's Elite Artists