That Time Donald Trump Pretended to Be His Own Spokesman to Trumpet His Romantic Life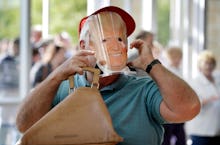 Presidential candidate Donald Trump is a real estate baron who once pretended to be a publicist named John Barron and now has a kid named Barron.
Oh — and sometimes he went by "John Miller" too.
So says a Friday piece in the Washington Post that outlines how the megarich Manhattanite faked out reporters back in the day by posing as a PR man — or two — raring to dish about The Donald.
Read more: Donald Trump Says He'll Keep Attacking Hillary Clinton's Marriage on the Campaign Trail
The paper's smoking gun is a 1991 recording of "Miller" speaking to a People magazine reporter working on a story about the mogul's imploding marriage to Ivanka Trump and his relationships with models Marla Maples and Carla Bruni.
"Miller turned out to be a remarkably forthcoming source — a spokesman with rare insight into the private thoughts and feelings of his client," the Post wrote. "'Have you met him?' Miller asked the reporter. 'He's a good guy, and he's not going to hurt anybody. .?.?. He treated his wife well and .?.?. he will treat Marla well.'"
Reporters heard from "Miller" and "Barron" starting in the 1970s and stretching through the 1990s, the Post said. The calls came from Trump's office and the speakers, who sounded exactly like Trump, described a successful businessman besieged by come-ons from babes including Madonna and Kim Basinger.
Per the Post:
Some reporters found the calls from Miller or Barron disturbing or even creepy; others thought they were just examples of Trump being playful. Today, as the presumptive Republican nominee for president faces questions about his attitudes toward women, what stands out to some who received those calls is Trump's characterization of women who he portrayed as drawn to him sexually.
Trump denied the fakery in a Friday call to the Today show, saying the voice on the tape sounded nothing like him, although the Post story noted that "In 1990, Trump testified in a court case that 'I believe on occasion I used that name.'"
The presumptive GOP nominee's affection for self-promoting alter egos quickly blew up the Twitterverse. Whether any of this could blow up the Teflon Don's drive for the presidency is still up in the air.