Aurora, Colorado Will Budget at Least $1.5 Million in Weed Tax Dollars to Its Homeless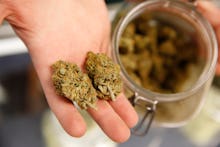 Advocates for the legalization of weed have always touted the tax benefits as an incentive for states to follow Colorado's lead. Last June, the state's tax revenue from marijuana sales surpassed that of alcohol sales for the first time, topping off at $69.9 million. Now, council members in Aurora have a plan for how they're going to budget $1.5 million of that lump sum — and it's to help the homeless.
According to the Aurora Sentinel, the Aurora City Council voted in February to allocate $1.5 million of the city's 2017-2018 budget to services for the homeless, matching the amount budgeted for the cause in 2016.
A portion of the money will go to the Colfax Community Network, a nonprofit that supports the city's "transient motel population," while another slice of the revenue will subsidize vehicles for members of Comitis Crisis Center and Aurora Mental Health to do homeless outreach, the outlet reported. Another $45,000 will allow the Aurora Housing Authority to make its part-time landlord role a full-time position to help the homeless find permanent housing.
Read more: A Major Problem With Colorado's Marijuana Economy Emerged After Legalization 
While Aurora's council members try to find the best use for what the Sentinel reports is another $4 million they plan to devote its homeless population, which in 2012 was just over 1,000, the rest of Colorado has some plans in the works for the rest of the weed tax revenue.
On Election Day 2015 state legislators left it up to Colorado voters what to do with the money. According to Attn: 70% of residents decided to give it back to the state for school construction, marijuana education and prevention initiatives, bullying prevention, youth initiatives, substance abuse treatment and more. 
There's never been a better reason to blaze in Colorado.