The Oreo-Stuffed Oreo Bagel Makes Eating Cookies for Breakfast Totally Legit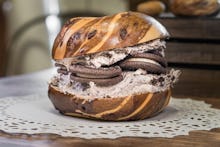 By most standards, Oreos aren't considered a breakfast food. The Bagel Nook in Freehold, New Jersey, however, has found a brilliant way to change that: insert Oreos into a bagel, a completely acceptable breakfast food. 
The creation is called the Oreo Overload and, boy, does the bagel stays true to its name. 
It has pulverized pieces of the popular chocolate sandwich cookie baked right into the dough, and it comes stuffed with sweetened Oreo-laden cream cheese. The bagel is topped off with full Oreo cookies, in case you were seeking some more cookie action.
The Oreo Overload is just one of many over-the-top bagels the shop makes. Other versions include cereal-inspired flavors like Fruity Pebbles and Coco Puffs.
Take a look:
There's even a Cap 'N Crunch bagel with brownie cream cheese, bananas, peanut butter and chocolate sauce.
It appears we're living in a new era where downing an everything bagel with chive cream cheese before a meeting doesn't count as living on the edge anymore. The rainbow bagel, the social media breakout star of late 2015, definitely deserves some of the credit.
The bright neon-colored bagel — first created by The Bagel Store in Brooklyn — has become a phenomenon, inspiring a number of knock-offs across the globe. 
The Bagel Nook makes a rainbow bagel too, which means, in theory, you could combine it with an Oreo Overload bagel to create a whole new viral concoction. It might open up a portal to a whole new dimension though, so eat with caution.