Hayden Panettiere Is Taking Some Time Off to Deal With Her Postpartum Depression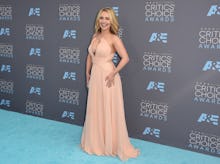 Nashville actor Hayden Panettiere made headlines last September when she opened up about her postpartum depression. The following month, she checked herself into a treatment center.
On Thursday, Panettiere tweeted that she no longer wants to stay "stuck" in her depression due to "unhealthy coping mechanisms" she had developed. Panettiere added that she plans on taking some time off to reflect on her health. (Her announcement coincides with the end of Nashville, which ABC recently canceled after four seasons.)
Panettiere's willingness to open up about her postpartum depression last year reignited a conversation around a serious issue that some reports say can affect as many as 19% of new mothers.
"When [you're told] about postpartum depression you think it's, 'I feel negative feelings towards my child. I want to injure or hurt my child,'" Panettiere said during an interview on Live! With Kelly and Michael at the time. "I've never, ever had those feelings. Some women do. But you don't realize how broad of a spectrum you can really experience that on. It's something that needs to be talked about. Women need to know that they're not alone, and that it does heal."
Other celebrity moms to share their experiences with postpartum depression include Brooke Shields, Courteney Cox and Drew Barrymore. 
Like Panettiere, Barrymore's strategy for beating the postpartum blues involved taking a step back and reevaluating how she spent her time.
"It was just really challenging and I felt overwhelmed," Barrymore told People in October. "I made a lot of decisions and I definitely changed my work life to suit my parenthood."
h/t People