Katy Perry Is Not a Fan of the Orlando Bloom/Selena Gomez Cheating "Conspiracy"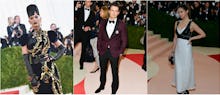 Katy Perry is not impressed with a recent rumor that her boyfriend Orlando Bloom cheated on her with Selena Gomez in Las Vegas while she stayed home and took care of the couples' pet Tamagotchis all by herself.
She is so not impressed with this rumor, in fact, that she took to Twitter Thursday to debut the cute little two-word phrase she has for it:
"Dumb conspiracy."
Even though Katy Perry told us not to, let's just give our energy and eyeballs to this situation one last time. 
To recap for anyone who may have missed the initial news: On Tuesday, TMZ released some blurry photographs in which Orlando Bloom and Selena Gomez were "all over each other" in Vegas. And then on Thursday, a video emerged in which the pair could be seen leaving the club together.
But anyway, Selena Gomez herself seems to agree that the cheating rumor is nothing more than a dumb conspiracy, as evidenced by the following RT:
So rather than give your energy and eyeballs to said dumb conspiracy, enjoy this Time article penned by Bloom instead. It is wholly unrelated to celebrity gossip and pertains to Bloom's philanthropical streak, specifically his work volunteering with children in eastern Ukraine. It seems that Katy Perry has gotten her a man who can do both.
h/t Jezebel