Texas Superintendent Says Obama's Trans Letter "Going Straight to the Paper Shredder"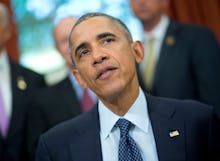 On Thursday, Texan superintendent Dr. Rodney Cavness said that he would not heed President Barack Obama's historic declaration urging school districts to allow transgender students to use the bathroom they prefer. 
Cavness — the superintendent of the Port Neches-Groves Independent School District — told a local news affiliate that Barack Obama "ain't my President" and that "he can't tell me what to do." 
He continued: 
"That letter is going straight to the paper shredder. I have 5 daughters myself and I have 2,500 girls in my protection. Their moms and dads expect me to protect them. And that is what I am going to do." 
Like North Carolina Gov. Pat McCrory, Cavness also believes that "there are accommodations to be made" for transgender students seeking to use the restroom. He did not, however, specify what those accommodations would be. 
Earlier in the week, Gov. McCrory asked Congress to revisit, and to gut, the 1964 Civil Rights Act, which ended segregation in public spaces and instated protections against discrimination in employment, housing and education. 
Even though Cavness said he must protect 2,500 female students, and advocated for separate facilities, he said he doesn't believe transgender people are child molesters. 
"I would say about molesters — 99.9% certainly aren't," Cavness said. 
Politicians like Gov. McCrory and Sen. Ted Cruz have used rhetoric around the protection of women and young girls to fuel the fire behind anti-trans bathroom legislation. Both politicians have been called out live on air for their views on transgender people — Ted Cruz by CNN's Jake Tapper and Pat McCrory by Fox News' Megyn Kelly.