These Lego-Like Braille Bricks Could Help Blind Children Everywhere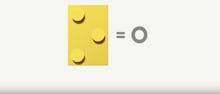 A team from Latin America is putting a new spin on educating children who are blind and also their peers.
Called Braille Bricks, the learning tool looks like giant Lego blocks, but instead of having standard numbers of raised nubs, the bricks correspond to letters of the Braille alphabet. Braille Bricks' founders say they can teach visually impaired children how to read while also being fun and inclusive for everyone.
The Braille Bricks are designed according to each of the 26 formations that make up the Braille alphabet.
The idea comes from the The Dorina Nowill Foundation and the Lew'Lara\TBWA ad agency, which have joined forces to promote literacy among children who are blind and help them better integrate into society.
According to its creators, the goal is to "transforms these bricks into a tool capable of encouraging creativity, helping blind children learn to read and write," and to "convince the toy industry to produce the bricks globally."
For more information follow #BrailleBricksForAll online.
Read more: Oh, God, We're All Going Blind Because No One Goes Outside Anymore