Laverne Cox Says She's "Excited" by the Backlash to North Carolina's Bathroom Bill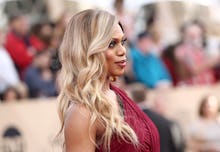 If North Carolina's transphobic HB2 isn't enough to shake your faith in humanity, conservatives' support of the legislation might do the trick. Former presidential candidate Ted Cruz used an analogy of Donald Trump dressing up as Hillary Clinton endorse the bill, while people like Duck Dynasty's Phil Robertson made predictable statements about the opposition to HB2, saying it represents the peak of the "mob mentality of political correctness." 
But while it would be easy to be discouraged by all of the hate, actress and transgender rights activist Laverne Cox is choosing to focus on the messages of those who have spoken out against the law. 
Read more: A North Carolina School Thinks Students Need Mace for Self-Defense in Bathrooms
According to CNN, Cox said at the Forbes Women's Summit, "I'm really excited that the Justice Department is suing the state of North Carolina," applauding Attorney General's Loretta Lynch's declaration that the bill is a violation of civil rights.
Cox added that she's also inspired by businesses like Target who have shown their support for transgender people. 
To Cox's point, it's possible the backlash against North Carolina's HB2 has brought more visibility to transgender people and the discrimination they face on a daily basis. On Friday, Merriam Webster's Dictionary reported that since Obama's directive to schools to allow trans students to use the bathroom corresponding to their gender identity, there's been a 630% spike in people searching "transgender." 
"Those bills are about making us not exist," Cox said at the summit. "For decades [we've] been told that we don't exist ... But I'm a testament that trans people do exist. There are trans people all over this country that exist."