Thanks to Solange, Capes Are Now a Bridal Go-To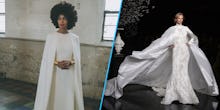 The pictures of Solange, standing tall and elegant as ever on her wedding day, in a stark white column dress with a cascading cape around her shoulders to the floor, were striking. 
She managed to look like a Greek goddess and an alien beamed down from another planet at the same time as she held court in front of a group including her sister, mother and friends, all in white dresses. With just a few well-lit pictures and a wicked sense of style, she was able to achieve a level of otherworldliness.
Many saw this and thought: Yes. 
Since the pictures debuted at the end of 2014, capes have creeped into bridal wear. Now, a bride can pop into a David's Bridal and pick up a dress with a matching cape for less than $2,000, or go for a more designer route, as seen at the latest onslaught of Bridal Fashion Weeks, which were held in a number of cities across the world. 
Like in Barcelona, at the Pronovias show:
And at Cristina Tamborero's show in Barcelona:
According to Lori Conley, a bridal merchandise manager at David's Bridal, the cape's trendiness may have to do with two trends colliding: the push for more modest clothing and everyone's constant need to look like a celebrity. 
"Coverage in general has become such an important trend in recent seasons, so I think that capes are the perfect option for the bride who wants to bring drama to her wedding day look," Conley said in an email. "I find that celebrity and red carpet style also influences today's fashionable brides, so she is intrigued and accepting when celebs such as Jennifer Lopez (at the Golden Globes) or Solange Knowles (at her own wedding) are seen rocking a cape." 
Over in New York, during Galia Lahav's presentation during his Bridal Fashion Week, capes made a big splash as well. 
"A cape completely brings the drama," Conley said. "There is nothing more picturesque than when the bride's cape catches the wind creating a moment that is 'Pinterest worthy.'"
Even in Indonesia, in a special wedding showcase, designers captured that moment with bright aqua and pink gowns with capes of their own. 
Clearly, the movement has gone international. According to Conley, the cape is versatile in that it can go with many different fabrics and styles of gown. 
"I think capes can be interpreted in different ways to coordinate with the dress," she said. "When designing styles with capes our team selects ethereal fabrics such as chiffon to complement the romantic vibe of a gown; for a more modern architectural look, structured fabrics such as crepe tend to work great." 
Unlike many bridal trends (like mermaid or strapless), a cape seems to be able to work on a variety of different brides and their dresses. So now that Solange has passed on the ability to maybe, possibly pull off a cape, maybe it's time she teach us all how to wear a big yellow dress, and not look like a sad lemon.