Archaeologists Just Discovered the Tiny Coffin of the Youngest Egyptian Mummy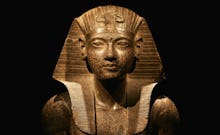 British archaeologists just revealed that a tiny, ornately engraved sarcophagus that has been in their possession for nearly a century, likely contains the remains of the youngest ever mummified fetus.
According to an article published by the University of Cambridge, the tiny mummy measures just over 17 inches in length, and is believed to have been between sixteen and eighteen weeks of gestation at the time it was embalmed. 
Read more: 4 Mysteries From Ancient Egypt We Still Can't Figure Out
The discovery provides a rare insight into the burial practices of ancient Egyptians when dealing with a specimen so young.
The tiny coffin has been in the possession of curators at the Fitzwilliam Museum in Cambridge, England, since it was excavated in Giza, Egypt, in 1907.
For years, researchers didn't investigate the contents of the cedar box, believing it likely contained an embalmed collection of internal organs — the burying of which was standard practice in ancient Egypt. 
It was only after an X-ray suggested that its contents possibly included a small skeleton, that the coffin was sent for a micro CT scan, which revealed that the tiny bundled object in its center was actually a human fetus.
The tiny mummy must have been an important one: Researchers examining the scans were able to see that its arms were crossed, which in combination with the painstaking detail carved onto the coffin, suggests that much time and effort went into executing the burial.
Although this is the youngest fetus scientists have unearthed, its not the first time one has been discovered in mummy form. 
CNN reports that two small coffins found buried in King Tut's tomb are estimated to have contained fetuses between 25 to 37 weeks old.