Michael Brown's Mother Wrote a Book and Was Immediately Piled on by Racist Trolls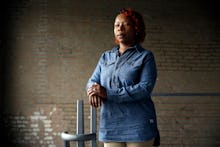 On Thursday, nearly two years after her son Michael Brown was shot and killed by a police officer in Ferguson, Missouri, Lezley McSpadden's memoir Tell the Truth & Shame the Devil: The Life, Legacy, and Love of My Son Michael Brown came out.
By Friday, the book's Amazon page had been plagued with dozens of racist messages, smearing McSpadden's name and her story.
Of the 78 customers who rated the book as of this article's publication, 55% of them gave it the one-star designation — the lowest grade available by Amazon's metric.
Some commenters seemed to consider the book to be a form of anti-police propaganda, and seized upon an opportunity to show solidarity with the former Missouri police officer responsible for Brown's death.
"WE ARE DARREN WILSON. WE WILL ALWAYS SUPPORT HIM. WE WILL ALWAYS BACK THE BLUE," wrote one anonymous user. 
Others chose to personally attack McSpadden and her deceased son, dropping loaded words like "thug" and accusations like "she's just looking for a handout."
"These 'reviews' are another example of what Lezley McSpadden and her family face daily," one anonymous commenter, who rated the book five stars, wrote. "The truth is Mike Mike was loved and supported, had goals and dreams, and wasn't a thug who deserved to be murdered in broad daylight because of some unreasonable fear of his blackness."
In an interview with Cosmopolitan ahead of the book's release, McSpadden said she wrote the memoir to combat negative media reports that had hurt the memory of her son.
"They were trying to drag my baby through the mud and make him out to be such a bad person. [The media] didn't tell the whole story, but there was no way for them to tell it without me opening my mouth to let them know who my son was," she told the website.
McSpadden said she kept a journal for the duration of the media circus that descended upon her family, and wrote down every false or defamatory statement she heard about her son.
In the wake of Brown's death, many were quick to criticize the media's portrayal of the young man. 
The hashtag #IfTheyGunnedMeDown, and the subsequent Tumblr page it inspired, highlighted the ways in which news outlets can influence whether the public sees a dead 18-year old as a victim or a criminal, depending on the photos they select.
"I want people to read the book and learn about Michael Brown. I want them to feel what type of kid he was: an animal lover, such a granny's boy, my firstborn," McSpadden told Cosmo.
Mic reached out to McSpadden for comment on the reviews through Gregory Henry, assistant director of publicity at Regan Arts, who said that she was "so raw right now from talking about her book that I would hate to ask her to look at those reviews."
"When you lose a child, it isn't something that just sits in your heart," a passage of the book reads, according to the Washington Post. "It's in your mind. It darkens your spirit."
Read more: There Will Never Be Justice for Michael Brown