Poet Brilliantly Unpacks America's Racial Profiling Problem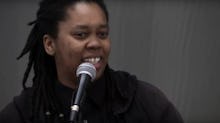 "Take a color and make it criminal."
That sentiment captures America's racial profiling problem, according to Ashley Lumpkin who performed her poem "At Home and Abroad" at a competition in May.
Her words showcases the disturbing truth about racial profiling that pervades 21st century life.
"Post his picture on CNN, we will see the twin towers fall again in his pupils," she said, referring to unjust perceptions of Muslim men in the United States. 
And black and Latino Americans? They're victims of the ignorance and stigma.
Here are 8 powerful moments from Lumpkin's poem:
Watch the full performance below: