Robin Wright Makes a Powerful Political Statement — It's Not Related to 'House of Cards'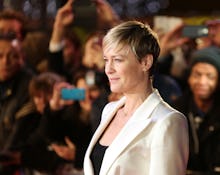 Life reflected art on Monday afternoon when Robin Wright — known for her globally-renowned role as Claire Underwood in House of Cards — got political in an interview, telling Mic it's the world's "responsibility to do something about" the conflict in the Democratic Republic of Congo. 
Wright is the narrator and executive producer of the new documentary, When Elephants Fight, which delves into the DRC's nefarious mining industry; exploitation of the ample natural resources has consistently undermined the country's stability, while fueling sexual- and gender-based violence. 
The film's associated campaign, #StandWithCongo, seeks to promote transparency in the extractive industry, particularly between the Congolese government and Western corporations — the latter of which have historically fueled rebel militia with illicit business deals. 
Wright spoke of collective complicity, given smartphones and tablets contain many of the metals harvested from the DRC. 
"Eleven years ago, when I learnt of this crisis, I was stunned that I was so uneducated — and that most around me were uneducated. That this device I had in my hand — I was on the phone with my daughter, telling her, 'goodnight,' and John Prendergast from the Enough Project was like, 'Do you have any idea what's housed in your phone?' 'No,' [I said]. Fifteen minutes later, my mouth was at my knees. And I just said, 'It's unacceptable, that I am using this convenience tool on a daily basis — all of us are — and we have a personal responsibility to do something about it.' ... This is the deadliest conflict in the world and we are basically fueling this war by being consumers."
Rebel groups, which over the past two decades have intermittently seized resource-rich areas and strategic mines, have benefitted enormously from making deals with Western corporations who buy "conflict minerals" from militia well below market value. Some of these businesses have subsequently enjoyed profits as high as 800%, according to the documentary. 
Decades of civil war have resulted in some of the highest rape rates in the world, and sexual violence has become a frequently used weapon. An estimated 40% of women in the DRC have been raped and when violence peaked, from 2006-2007, around 50 women were being raped every hour. 
"It is a method of torture," Denis Mukwege, a human rights activist and Congolese gynecologist who runs a free clinic for rape victims, told the Guardian.  "It is a way to terrorize the population. When I see some of the injuries on the women and children, I realize this type of violence has little to do with sex and much more with power through a sort of terrorism."
Greater transparency in the sourcing of minerals from the DRC, Wright contends, will have major and multifarious implications — from economic empowerment to the reduction of sexual violence.
"I just want to encourage people to make noise," Wright added. "It's the only thing that cleaned up the 'blood diamonds,' and this is exactly the same."
"Silence is apathy," she concluded. "Don't let the silence win; let the compassion win."